Often overlooked by improvement-minded homeowners in favor of flashier design elements, outdoor patio ceiling fans are one of several classic property features that can add tremendous value and utility to the space that they occupy. At Lone Star Patio Coveres & Enclosures, we can install outdoor-rated ceiling fans in a wide variety of settings. These fixtures are especially popular in partially covered areas like poolside alcoves, outdoor kitchens & screened in porches. Relative to the cost of retaining a professional electrician after the construction process has been completed, it is far cheaper to install outdoor ceiling fans during the initial construction phase, especially when building a covered patio.
Stay Cool in the Texas Heat With Outdoor Patio Ceiling Fans
On top of their aesthetic appeal, outdoor patio ceiling fans are a virtual necessity in Texas' subtropical climate. A lot of the pergola questions that we get are regarding fan installation & the electrical requirements needed to have one installed. Many homeowners who retain us to install a ceiling fan in a new patio cover rave about the fixture's ability to make hot, humid summer days bearable. In fact, ceiling fans may dramatically increase the attractiveness of the spaces that they grace and they are easily installed into our insulated roof panels.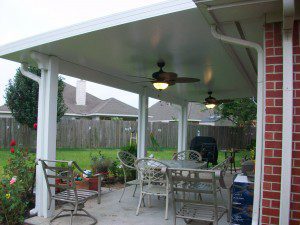 Damp-Rated and Wet-Rated Outdoor Patio Ceiling Fans
Although there are many different types of outdoor patio ceiling fans, most of these fixtures fall into one of two broad categories: damp-rated and wet-rated. "Damp-rated" outdoor patio ceiling fans are designed to withstand high levels of ambient humidity and can typically be used in a fully covered sunroom or screen room. However, damp-rated fans cannot safely be exposed to running liquid water or rain which would be problematic for a pergola application.
It is important to note that many indoor ceiling fans and light fixtures are not damp-rated. At Lone Star Patio Builders, we strongly advise against installing regular indoor fans in any sort of outdoor covered patio environment. Since hot air is capable of holding more moisture than room-temperature air, indoor-rated fans that are exposed to the heat of a Texas summer may fail prematurely.  We will also determine the electrical capacity of your circuit to make sure your new fan won't cause an overload.
Learn About the Perks of Outdoor Patio Ceiling Fans for Patio Covers and Pergolas
Homeowners who wish to install outdoor patio ceiling fans or other patio options in a partially covered space like a pergola, pool deck, or outdoor kitchen should opt for a "wet-rated" fan that can withstand rain and wind. These fixtures are completely sealed and can continue to operate in harsh outdoor environments for years on end.  We will discuss your mounting options.  Possible locations can include an existing or new exterior wall or even mounting directly onto your new columns.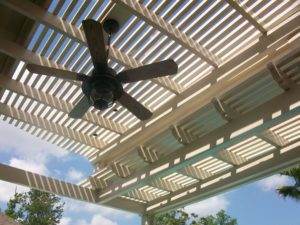 We are a local Houston patio construction company.  Ceiling fan installation with our cedar outdoor covers, screen enclosures, pergolas and aluminum patio covers is a very common request. We have full accreditation from the Better Business Bureau and take care to use only the finest building materials and techniques. We have created inviting outdoor spaces for hundreds of homeowners across Texas and enjoy the support of dozens of repeat customers.
Lone Star Patio Covers is your full service outdoor living contractor providing installation services in Houston, Katy, Sugar Land, Cypress, Conroe, The Woodlands, Pearland, Tomball, Magnolia, & League City.