Insulated roof panels with Kynar 500 finishing are an important and often-overlooked aspect of many of the aluminum patio cover construction projects that we build.  Most customers are unaware that Kynar is also an option with an aluminum pergola too. They can imbue a fully or partially enclosed screened patio in Houston with lasting aesthetic appeal. They are also tremendously practical in a variety of settings. After enduring the heat and humidity of a Texas summer in older non-insulated outdoor screened porch, many of our customers ask us to construct new spaces that feature foam insulated roof panels.
Insulated roof panels are functional for outdoor covered patios in every season. During the summer, they provide much-needed protection against the nearly constant humidity that plagues Texas. During the fall, winter and early spring, they are perfect for reducing humidity.  In fact, insulated roof panels can turn a covered space that receives little attention during summer and winter into a four-season room that enjoys heavy use.  Our covered patios can be customized with your choice of Kynar coated columns to make then look like real wood.
Our Insulated Roof Panels are Weather-Resistant
Unlike wood construction, the roof panels that we install on our aluminum patio covers come in a variety of thickness levels, including 3″, 4″ and 6″. They are strong enough to withstand the weight of typical adult, moderate-sized tree branches and limbs and even the occasional dumping of snow. They are also guaranteed to withstand strong wind gusts and torrential rains. Best of all, our insulated covered patio roof panels can be fitted together to insulate a space of virtually any size.
Stay Cool in Summer and Warm in Winter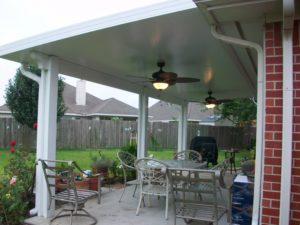 Our insulated roof panels are designed to increase our clients' comfort during periods of extreme weather. As an added bonus, their superior insulation qualities may also reduce long-term heating and cooling costs. By installing adequate electrical outlets it may be possible to use a small space heater to warm a screened patio enclosure to a comfortable temperature. By contrast, construction of a non-insulated room might require its own supply of heat. Likewise, an insulated sunroom made of Alumawood materials may only demand occasional blasts of air conditioning or a low ceiling fan setting to remain comfortable during the summer. On the other hand, it might be difficult or impossible to cool a non-insulated space to an acceptable temperature.
Contact Us for a Cost Estimate
Lone Star Patio Covers is your full service outdoor living contractor providing installation services in Houston, Austin, & San Antonio.
To obtain detailed information or additional questions on the services that we can provide, call Lone Star Patio Builders at 281-773-1255 and ask for a free, no-obligation consultation with one of our trained outdoor construction specialists.