Lone Star Patio Builders specializes in installing patio covers throughout the Greater Houston area. We offer design ideas & suggestions to help create the perfect outdoor space for your backyard. Lone Star has built hundreds of patio covers all over Houston in many different styles & using many different types of materials. If you are just starting to consider building a shade cover for your backyard you will most likely have many questions. Some of the most common questions are listed below.
Most Common Patio Cover Questions
What is a patio cover?
A patio cover is an outdoor shade structure designed to provide 100% shade coverage & complete rain protection to any backyard area. Most covers are built attached to an existing home because they are more functional but detached covers are also possible.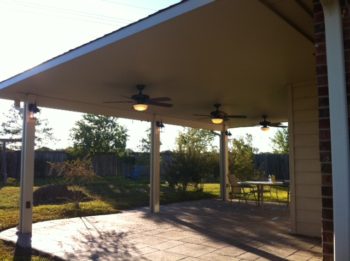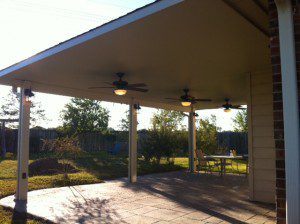 What is a patio cover called?
A backyard shade cover can have different names but most often they are called covered patios & even awnings. Each term is correct although awning generally refers a shade structure that is small in size & may be retractable.
How much do covered patios cost?
Patio construction costs can vary depending on the type of material that is used. Aluminum patio covers for example can cost as little as $20.00 per square foot while a wooden frame cover can cost as much as $120.00 a square foot or more.
Do I need a permit to build a new shade cover?
Most often you will need a building permit. Depending on where your home is located will determined whether a city or county permit is required. We also suggest getting approval from your Homeowner's Association prior to construction.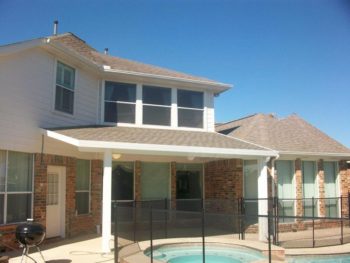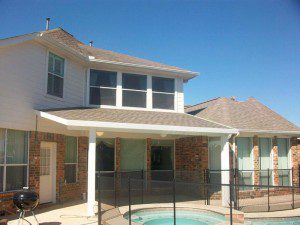 What is the best material for covered patio construction?
The best material for patio cover construction depends on the budget & style choices used. Aluminum materials are the most popular because the cost of construction is so much less. Aluminum materials are more durable & come with a lifetime warranty.
How much is a wood cover?
Wood is the most expensive porch cover construction option. An average wood-frame structure can range from $80.00 per foot to $120.00 per foot. Since construction costs decrease as size increases, this type of construction is not the best choice for smaller projects.
How to get a free quote?
To get a free quote on any of our Alumawood patio covers, screened porches or pergolas just call 281-773-1255 or fill out the contact information on this page.
The Most Popular Options
Outdoor Ceiling Fans.
Custom Lighting.
Outdoor Speakers.
Aluminum Roof Panels.
Outdoor Televisions.
Custom Posts & Column styles.
Decorative Stamped Concrete.
Don't see the exact covered patio you are looking for? Don't worry because:
We design each roof & porch extension, awning, screen enclosure & carport to meet your style, taste, & budget. Our professional estimators will design your project to meet your outdoor living needs. We are an active member of the Better Business Bureau and we look forward to earning your business.
See our photo gallery for additional ideas.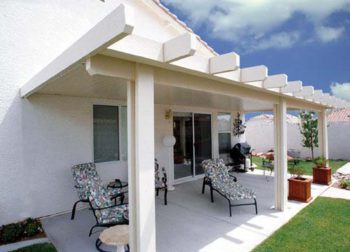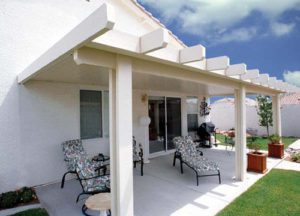 Call us today at 281-773-1255.