Patio covers, also known as covered patios, are ideal for creating more usable outdoor shaded space.  Your patio cover will be a more comfortable & enjoyable place to spend time outdoors once it has shade.  Call today for professionally built outdoor patio covers & covered patios that are really affordable.
Because we are a specialty outdoor shade contractor:
Building attached backyard aluminum patios are the most popular request.
We will do everything possible to keep your outdoor construction costs affordable.
Professional results will be delivered that you can count on.
We service most metro Houston areas around Tomball, Magnolia, Conroe & Spring.
Click For Quote or Call 281-773-1255.
Covered Patios Are Our Specialty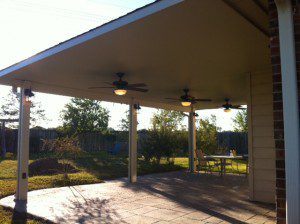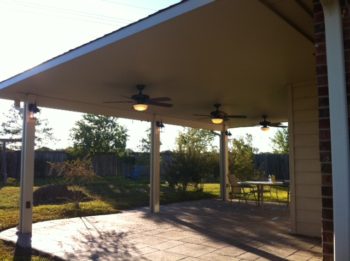 Patio shade can be built using either wood or aluminum materials.
An aluminum shade cover can meet almost any budget.
Aluminum construction time is really fast.
Shade solutions for odd-shaped backyards is no problem with metal construction.
Our aluminum porch covers look like real wood even though they aren't.
Aluminum porch construction offers versatility that wood styles just can't compete with.
Insulated roof panels are ideal because they can be shingled to match your roof.
Get exactly the type of outdoor patio shade cover you want while spending less money for it.
Aluminum patio covers cost significantly less than traditional wood construction.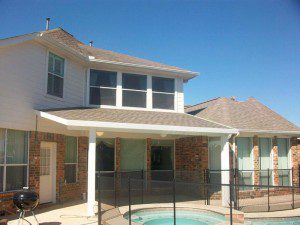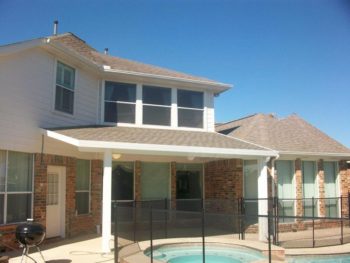 Options for patio covers:
Outdoor Ceiling Fans.
Custom Lighting Options.
Outdoor Speakers.
Aluminum Roof Panels.
Outdoor Televisions.
Kynar finish.
Custom Posts & Column styles.
Decorative Stamped Concrete.
Call 281-773-1255 or click the button below for your free.
Visit our Project Photo Gallery for a few examples.
Don't see exactly what you are looking for?  Don't worry because:
We design each roof & porch extension, awning & carport to meet your style, taste, & budget.
Screened walls can be added to any of our aluminum backyard shade covers or pergolas.
Our professional estimators will design your construction project to meet your outdoor living needs.
Lone Star builds aluminum porches, carports and awnings throughout the Greater Houston Metro area.  We are an active member of the Better Business Bureau and we look forward to earning your business.
Your new aluminum patio construction project doesn't have to cost a fortune.  We can explain how simply changing your patio size or using aluminum construction materials will save you thousands of dollars in construction costs.
We also install:
Pergolas – Screen rooms – Screened Patio Enclosures – Sunrooms – Screened Porches
Call us today at 281-773-1255 today.