Patio enclosures are a necessity in Houston. Ask any one of our clients which home improvement they enjoy the most & you will quickly find out why. We can customize any of our patio enclosures to create the perfect screened in outdoor living space for your backyard. We can either enclose your existing covered patio or we can build a new patio cover & install matching screen room walls. We can even screen in our pergolas too.
Although screened in patios are known commonly by various names such as screened porches or screen rooms, they all refer to a completely closed in and mosquito-free patio. Let us start designing your new patio enclosure today and you will be glad you did.
Why Build Patio Enclosures in Houston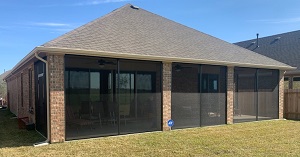 The materials and methods that can be used to build patio enclosures are highly variable. Most of these Houston patio structures are built on existing foundations but we are happy to construct a new foundation or deck to support any new patio enclosure.
The most common attributes of our patio enclosures in Houston include:
Complete protection from mosquitoes & bugs.
Built with sturdy screen walls and can be configured into any shape.
Solid roof covers that can be fitted with insulated panels for rain protection.
Climate-control options for are also available.
Uses for Patio Enclosures
Our screened patios come in a wide variety of styles and colors. Some of the more common uses for these screened-in rooms include:
Outdoor entertaining.
Romantic dining spaces.
Expanded living areas for guests.
Storage areas.
Natural-light reading areas.
Protected spaces for pets.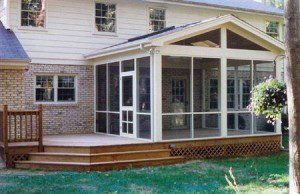 We understand that building an addition to your home can be a complicated process. We are committed to providing an accurate initial estimate and adhering to all building code requirements and homeowner's association regulations. In addition, we pledge to complete the construction of your project on time and on budget. At Lone Star Patio Covers & Enclosures, we are committed to using only the finest material, techniques and tradespeople. We specialize in creating long-lasting outdoor patio spaces for our valued clients.
We are Houston Better Business Bureau members & look forward to working with you.
Call 281-773-1255 or click the button above for your free quote.