Screened porch & screened-in patio enclosures are a useful addition to any Houston backyard. We can create screened porches & screened patios from scratch to include a new patio cover or use our expertise to install screen walls onto any existing covered patio or porch anywhere in the Conroe, Magnolia, Tomball or Montgomery area. There is no better way to enjoy a Houston summer than by building a new screened in porch enclosure & getting outdoors. Best of all, we use a variety of techniques to ensure that all of our projects match the appearance of your home.
Call 281-773-1255 today for a free quote.
Benefits of Screening in a Patio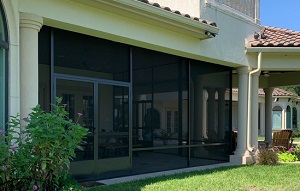 Houston Screened porches & screened in patio enclosures are equally suited for use as indoor-outdoor storage areas, playrooms for cats or dogs, or just a more comfortable outdoor entertainment area. These structures have several characteristics that set them apart from other outdoor spaces:
Full protection from biting and stinging insects.
Elevated floors that resist water damage and flooding.
Customized exterior features, including roof materials, paint colors and wood styles.
Protection from weather conditions like direct sunlight, rain and hail.
Cross-ventilation that can reduce the effects of summer's humidity.
Since they are fully screened-in, flying bugs & insects will no longer be a problem.
Additionally, our Houston screened porches & patio enclosures can be outfitted with a full array of custom lighting fixtures, furniture and floor coverings. Most of our customers use outdoor ceiling fans to increase the air flow during the hot summer months.
Houston Screen-in Porch
Lone Star Patio Covers & Enclosures is committed to using only the finest woods and metals such as Alumawood to build memorable, long-lasting screened patio spaces.
We are Better Business Bureau members & look forward to working with you.
Call 281-773-1255 today for a free quote.