Screen rooms are our specialty. An enclosed screen room is appreciated most during any hot evening when bugs & mosquitoes are out, especially around thick woods or bodies of water like the the Conroe & Magnolia areas. This type of patio project is referred to by different names such as:
Screened in Patios
Porch Screens
Screen Enclosures
Even though the names are different, they all refer to the same type of project.
Why build a screen room on your patio?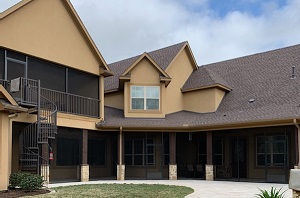 It will provide a bug-free outdoor living space.
You will actually be able to sit outdoors.
An enclosed patio cover or porch enclosure will eliminate mosquitoes.
Insulated roof panel options will keep your outdoor space cooler.
Screening in your patio will provide a safety factor with small children and swimming pools.
A screened in porch will add value to any home.
For additional screen room enclosure design ideas see our Photo Gallery.  If you don't see the exact enclosure you want, don't worry.  We can custom design the perfect screened patio for your home.
Common Features
Complete insect protection.
Can be built on a deck or concrete slab.
Pet resistant screening options are available.
We offer solar screen options for additional sun blockage on any screen wall that we build.
Pet doors.
Why screen in a patio?
Our screen rooms & enclosures are built using a screen material that is absolutely the best available and comes with a lifetime warranty.
Enjoy spending more time in their own backyard without the bugs.
Keep small children away from a swimming pool.
Our screen material is really tough.
Solar screening reduces heat.
We can include outdoor ceiling fans.
Custom lighting options are available on request.
You will never own another home without one.
Answers to Common Screen Enclosure Questions
We use only the finest materials and techniques to build the most durable screened patio enclosures and screened porches in Houston. In addition to screen room projects, Lone Star Patio Covers & Enclosures also installs pergolas & aluminum covers.
What is patio screening made of?
The ideal material to use for framing a screen wall is aluminum. The actual screen material is made of fiberglass but it has a two-part PVC coating on it which makes it really strong.
What screen door options are there?
The most common screen door installation will include a standard 36″ wide door with a 14″ tall kickplate. A standard door will come with locks and automatic closers. Additional options include double doors and single width or double width sliding screen doors. Custom door sizes are also available including heights of up to 8′.
Are there height restrictions on a screened wall?
No. We can enclose an outdoor area with any wall height. Most screened palls are 8′-10′ but we can build as high as you wish.
Does an enclosed patio have to have a kickplate on a screen wall?
Most screened walls do not have a kickplate but it is an option. Some customers prefer the look while others do not. There is no right or wrong answer.
How wide are wall channels on a typical screen wall?
Most screen applications only require a 2″ wide x 2″ tall framing channel. These are very low profile and blend seamlessly with any screened porch installation. Once a wall height exceeds 16′ then a larger channel size is used.
If Lone Star builds a screened in porch are the screens removable?
No, the screens are not removable. Our enclosures are fixed panel walls. We do offer retractable options but retractable screens are not very common due to their high costs.
Can I install solar screens on a screened porch enclosure?
Yes, solar screens & privacy screens are available. The amount of sun block that can be installed is 70%, 80%, 90% or 95%. Be cautious when selecting solar options though. If your screened in patio looks into a living room or kitchen please be aware that a large percentage of natural lighting will be blocked when solar screens are installed.
How wide can each screened wall panel be?
Normal panel spacing when building a screen room enclosure is 4′-6′. The panels can be spaced further apart but usually do not exceed 8′. A large screen panel allows for too much screen flexibility.
We are Better Business Bureau members & look forward to working with you. Lone Star service areas for screened-in patios include: Houston, Spring, Magnolia, Conroe, Tomball, Pinehurst, Montgomery, Willis, The Woodlands, Cypress, Kingwood, Humble, Porter, Atascocita, Crosby & Huffman.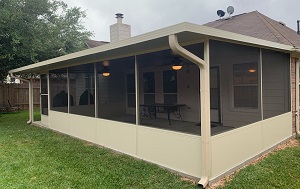 Contact us at 281-773-1255 or click the button above for your free patio enclosure quote.