Pergolas are designed to only offer partial sun blockage. They are typically made of wood or aluminum material which is ideal for the Houston area. Also known as, arbors or lattices, a pergola can have a wide variety of functions in our Houston climate.
We Build Custom Cedar & Aluminum Pergolas:
Built into virtually any residential or commercial setting.
Designed to fit almost any shape.
Material options include cedar, metal or treated pine.
Lone Star Patio Covers & Enclosures provides professional construction services at affordable prices.
Pergola Considerations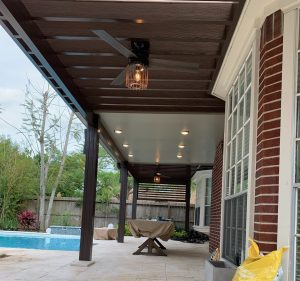 Key characteristics of most backyard projects include:
Customized for your preferred amount of shade.
Painted or stained to any color.
Customized pergolas to make your patio unique.
Cedar Pergolas
Increase the enjoyment of using your backyard more often.
It will add value to your home.
Add a fan for more comfort.
Expand your home's entertainment area with custom lighting.
Alumawood will outlast your home.
Arbors are less expensive than a covered porch.
Why hire us?
We only use the finest materials to build unique, durable lattices and covered patios for our clients. We have helped hundreds of area homeowners discover the benefits of owning an arbor, including some that have even turned theirs into a screen room. As a result, we have many repeat customers to prove it.
Answers to Common Questions
What is the best material to build a pergola out of?
When buying a pergola, the two most common materials are wood and aluminum. When using wood the ideal species to use is Western Red Cedar which is naturally resistant to insects. As a percentage, aluminum is the most common since it has a lifetime warranty & requires no maintenance.
Can ceiling fans be installed on a pergola?
Fans can be installed with any pergola purchase as long as the fan is rated for wet conditions. A standard exterior fan will not work unless there is a waterproof roofing installed on top of the pergola to keep our rain.
How much shade does a pergola provide?
The percentage of shade generated by a pergola will depend on how far apart the rafters & lattice are spaced. An average spacing configuration is 24″ using 2″x6″ rafters and 2″ spacing for 2″x2″ lattice that is normally installed on top of the structure. Using a standard spacing 50% – 60% of sunlight will be blocked.
What end cut styles are available?
When building pergolas made of metal, there are four end cuts from which to choose. They are scallop, corbel, miter & square cut. If wood is the building material then there are many other styles which can be used.
Are there any additional lighting options?
Other options can include post mounted carriage lights and electrical outlets installed for string lights or rope lighting. It is suggested that dimmer switches be used for pergola accent lighting so the quantity of light generated can be regulated.
If polycarbonate roofing is installed to make a pergola rainproof, how much slope is needed?
Usually no more than 1/2″ of slope is needed for every foot of rafter length. As an example: A 10′ long structure will need a total slope of 5″ to properly shed water from the top of a pergola.
Does a pergola have to be freestanding or can it attach to my house?
We can attach almost any shade structure to an existing home. Attaching to a home is the most popular ways that pergolas are built. If preferred, we also offer the option of adding additional support posts and making it freestanding.
Do I need HOA approval to build a new pergola?
We encourage everyone to get Homeowner's Association approval prior to building. It is an easy process and we are glad to help you with the paperwork at no additional cost.
Thank you for visiting our website.
We are Better Business Bureau members which is another reason you are in good hands. Most of all, we thank you for your time and very much look forward to helping with your new pergola purchase. If you are not ready to buy a pergola at the moment please keep in mind that we also build screened in porches & patio enclosures too.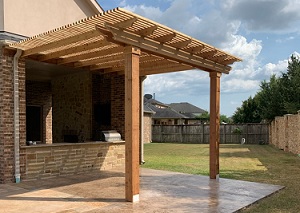 Call 281-773-1255 today for your free quote.