Ask your patio contractor about Kynar 500.  Our Kynar finish is a durable, architectural-grade finishing material that graces all of the aluminum patio covers that we build. It is particularly useful for insulated covered patios & patio covers, pergolas, screen rooms, patio enclosures, screened porches, and sunrooms. Thanks to the material's impenetrable molecular structure and legendary staying power, our Kynar-coated structures retain their integrity and aesthetic appeal long after non-coated structures begin to show signs of rust and aging.
Kynar 500 is Resilient and Requires Almost No Maintenance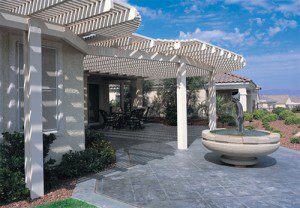 Kynar is rated to resist mold, mildew, rust and other common environmental irritants. Crucially, it virtually eliminates the need for regular repainting and refinishing. In effect, our Kynar coating becomes part of the structures that it adorns. This makes them surprisingly easy to clean: The vast majority of stains and smudges can be removed from Kynar-coated metal supports and fixtures with a simple blast from an everyday garden hose.
Lone Star Patio Builders is not the only local covered patio construction company that uses this special type of finish on our screened porches & insulated roof panels. In fact, Kynar has adorned residential and commercial buildings and structures for over 40 years. It has a wide range of industrial uses and is renowned for adding to the resale value of properties that feature it.
Kynar is a patented, trademarked blend of PVDF resin. As one of the most non-reactive materials on the market today, PVDF is considered to be superior to most other coatings, sealants and resins. Unlike some other plastic materials, Kynar is impervious to corrosion and environmental degradation over long spans of time. At the same time, it is also cheaper than many other types of polyvinyl. It is most commonly applied to Alumawood or other aluminum products and often adorns residential siding, curtain walls and door frames.
We Only Use Kynar 500 for Our Metal Structures
It is important to note that Kynar can only be applied to our aluminum patio structures and metal pergolas.
Lone Star Patio Covers is your full service outdoor living contractor providing patio enclosure & pergola installation services in Houston and surrounding areas. For more information please call 281-773-1255.