Need an electrician or electrical contractor for your patio construction project? Would you like to have electrical outlets or electrical wiring installed in a new outdoor patio cover? At Lone Star, we offer many electrical options for any outdoor covered patio project.
Dedicated Circuit
Line Extension
New Light Switches
Ceiling Fan Installation
Breaker Box Upgrades
From electrical wiring requirements for new outlets to breaker box upgrades, we can handle it all. Don't forget the importance of installing new ceiling fans too. Fans or outlets can be conveniently installed on any of the covered patios or pergolas that we build.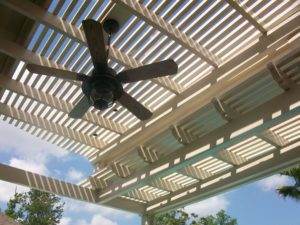 Considerations
Many of our Houston customers requests also include wall fixtures or support outlets not only for outdoor kitchen projects but many other applications. We can even conceal wiring applications within wall channels for our screen rooms & patio enclosure installations.
Cooling Systems
Low Voltage Lighting
Carriage Lights
We can even make your TV retract into the ceiling.
Think about the convenience of running additional power to your patio. Everything can be powered at your convenience. No electrical project is too big or small for our qualified electricians.
Bug Zappers
Cooking Equipment
Margarita Machines
More plugs for Christmas lights
Mount additional plugs on your covered patio posts.
No More Extension Cords
Lone Star can install heavy-duty outlets that are fully capable of supporting the power requirements of pool cleaners and large appliances and devices. These fixtures typically come with ratings of 110 or 220 volts and can supply alternating and direct current in unlimited quantities.
Quality and Value
Although Texas' humid summer climate can pose a challenge for many outdoor appliances and machines, we stand by our electricians & their workmanship. The wiring & electrical components that we use exceeds building code requirements & is fully insulated to resist corrosion. In other words, it can survive extended periods of hot, humid Houston weather. Likewise, our heavy-duty electrical outlets are well-insulated and come in a variety of durable shapes & color options. We can perform custom electrical work that meets or exceeds the standards at a fraction of the price that others might charge. It is far cheaper to hire us to install electrical wiring, lighting and outlets during the build phase of our construction projects than to try retrofitting after the project is complete. This is especially true if wiring is to extend to column mounted lighting or electrical outlets.
Our insulated roof panels contain hidden electrical chases as convenient conduits for the wiring that powers our mounted outdoor patio light fixtures and outdoor ceiling fans for pergolas as well as covered patios. We can also use these panels to house recessed electrical outlets or lighting fixtures. In fact, many of our customers prefer the convenience and aesthetic appeal of our unobtrusive ceiling-mounted outlets when compared to a standard wall mount. If preferred, we can also install electrical items & switches into any new or existing support columns that may be needed for your project. If we are building a cedar or wood framed project for you all of our wiring will be concealed behind your HardiPlank or tongue & groove ceiling with no visible conduit. The structural components used to build our swimming pool enclosures & pool cages can also contain hidden electrical channels. Code regulations for pool cages are slightly different though.
Projects that we build:
Screened Porches – Aluminum Patio Covers and Awnings – Screen Rooms – Sunrooms – Screened Patio Enclosures
Get a Free Estimate
Lone Star Patio Covers & Enclosures is your full service outdoor living contractor providing installation services in Spring, TX & many other areas in the metroplex. To learn more about the outdoor patio construction options & electrical services that we offer and receive a free consultation just give us a call or click the button above. You can speak to one of our building experts by calling 281-773-1255.