Our experienced team of patio building & construction professionals at Lone Star Patio Builders is fully capable of installing high quality patio covers, covered patios, & pergola spaces that satisfy every taste and budget. Unfortunately, spaces that lack outdoor patio lighting fixtures have less intrinsic value than spaces that are bright and inviting. After all, it is impossible to operate a barbecue grill or outdoor kitchen after dark without a reliable, powerful source of light nearby. It is also difficult to read or converse comfortably in an outdoor space without such an amenity.
Outdoor Patio Light Fixtures
At Lone Star, we are committed to providing options such as top-notch outdoor light fixtures on our aluminum covered patios & pergolas that simultaneously respect the spaces that they occupy and provide practical, long-lasting illumination. In the late summer, fall and early spring, many of the structures that we build such as a covered deck or pergola, enjoy heavy after-dark use. Accordingly, we advise our customers to consider durable lighting options during the initial construction phase before the cedar or HardiePlank ceiling is completed. Retaining an electrician to install such fixtures after the project's completion can be expensive and logistically challenging.
Outdoor Patio Lights Can be Installed Almost Everywhere
While covered patio lighting is a practical necessity, our versatile fixtures can also be used to accentuate our structures and other property features. For instance, many of our customers ask us to install atmospheric lighting on the columns and overhead beams of their pergolas. Some prefer softer lighting in sitting areas like sunrooms, screened porches, patio enclosures, and screen rooms. Others request stronger floodlights in covered patios. Fortunately, our team of experts is fully capable of fulfilling virtually any lighting-related or electrical service request.
Install Outdoor Patio Lights With Your Ceiling Fans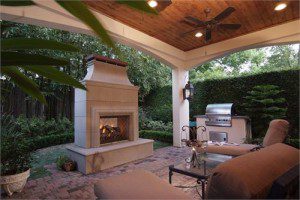 Customers who wish to illuminate their outdoor spaces cheaply and effectively can opt for fixtures that fit directly into the outdoor ceiling fans that we recommend. Most ceiling fans can accommodate incandescent and fluorescent bulbs that resist moisture and last for hundreds or thousands of hours. We are fully capable of erecting the wiring and physical supports for these fixtures. We can also source and supply the perfect bulb, fan or fixture. Alternatively, we are happy to provide a list of recommended and widely-available fixtures to clients who wish to select one themselves.
Get a Quote for Your Outdoor Patio Lights
Lone Star Patio Covers is your full service outdoor living contractor providing installation services in Houston, Spring, Magnolia, Conroe, Tomball, Pinehurst, Montgomery, Willis, The Woodlands, Cypress, Kingwood, Humble, Porter, Atascocita, Crosby & Huffman.
For more information about the fixtures, structures and spaces that we can create and improve, call 281-773-1255 and schedule a free no-obligation consultation with one of our seasoned patio building experts.